How a military veteran's smile benefits from improved oral health
Sometimes, even when you're aware of a major problem with your oral health, it can be difficult to know where to look for advice and assistance.
Take for example our patient Chris, a 38 year old veteran of the Australian Defence Force. After years of service in-country, like many veterans Chris was sadly suffering from Post-Traumatic Stress Disorder, which had had a severe effect on his teeth and oral health.
Chris came to us with teeth that had been severely damaged from bruxism, an understandable consequence of nightmares caused by his PTSD. Many years of searching for a helpful dentist had proved fruitless – until Chris gave Wickham Terrace Dental a call.
Here is the story of how Dr Teakle and our team improved Chris's oral health and gave him back his smile and confidence.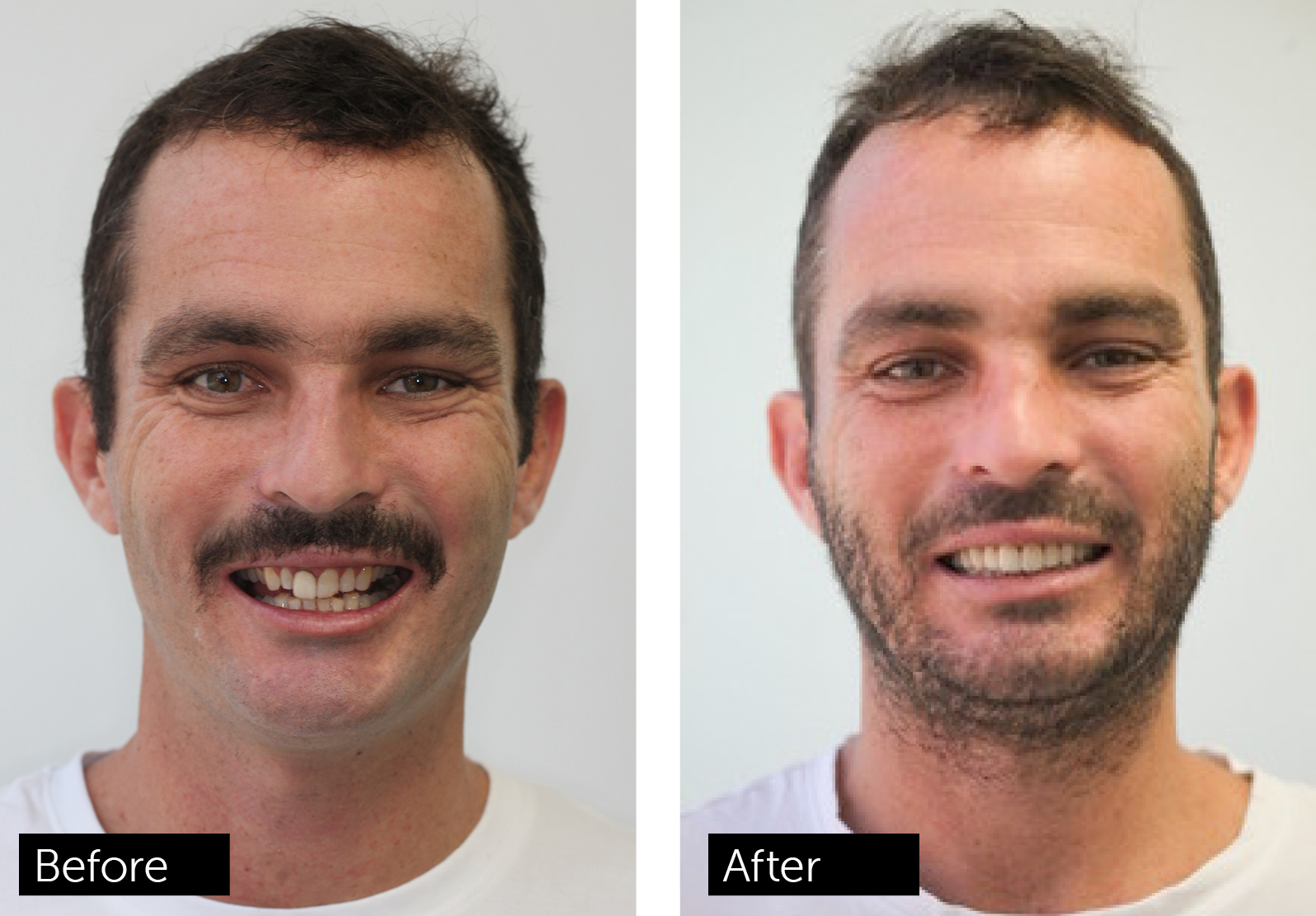 A life of sport and service leads to oral health problems
Chris tells us he's lived with bad teeth nearly all his life. "Growing up I played a lot of football, which meant the inevitable injuries along the way," he said. "I busted a front tooth and then lost a molar in the back."
"Later when I joined the army they did a bit of fixing up, but it was what I'd call 'old school' dentistry", Chris said. After being deployed twice overseas, Chris was discharged and returned home. Unfortunately, his dental issues were only just beginning.
Like many of our military veterans, sadly Chris suffered from ongoing PTSD brought on by his overseas active service. His nightmares led to nocturnal bruxism (or teeth grinding while you sleep at night), which caused major damage to his teeth over time.
"My teeth grinding was a problem for almost a decade," Chris said. "It got to the point where you couldn't see any of my bottom teeth – they were actually grinding away into my top palate."
"You can imagine my smile was looking pretty awful. It definitely caused me to lose confidence and I guess it had a knock-on effect on my mental health as well."
Seeking the solution to bruxism and damaged teeth
Looking for answers, Chris says he went to three different dentists but didn't get the advice and support he was looking for. "They all tried to push me towards having braces, even though I told them I didn't want to do that," he said. "I had done my own research and I knew I'd have to have braces for 5 years – and I was already 35 at the time."
Chris tried Invisalign, but the system didn't work for him because his dentist didn't treat the underlying health of his teeth first. "They were trying to move my teeth, but because they weren't in good shape the teeth were actually cracking, which wasn't great."
Deciding he wanted to keep his natural teeth, since the underlying health of the teeth roots was good, Chris knew he had to find a dentist that would actually listen to him and work with him to find a better solution.
After discovering the opportunity to apply for government grants to assist with treating the effects of his PTSD, Chris set out to find a supportive dentist that would accommodate his needs.

Online search uncovers Wickham Terrace Dental
After a quick Google search Chris found Wickham Terrace Dental and was impressed by the amount of 5 star reviews from our patients. He decided to give us a call.
"I knew straight away that I'd found the right dentist. Andrew Teakle was understanding and accommodating – and just a nice bloke. He comes out into reception and shakes your hand, for example," Chris said.
At the first consultation Dr Teakle talked Chris through his options. "I asked about my bruxism and fixing that vertical dimension, and Andrew described what was possible," said Chris. "A couple of months later we were getting started on my 18 month treatment plan."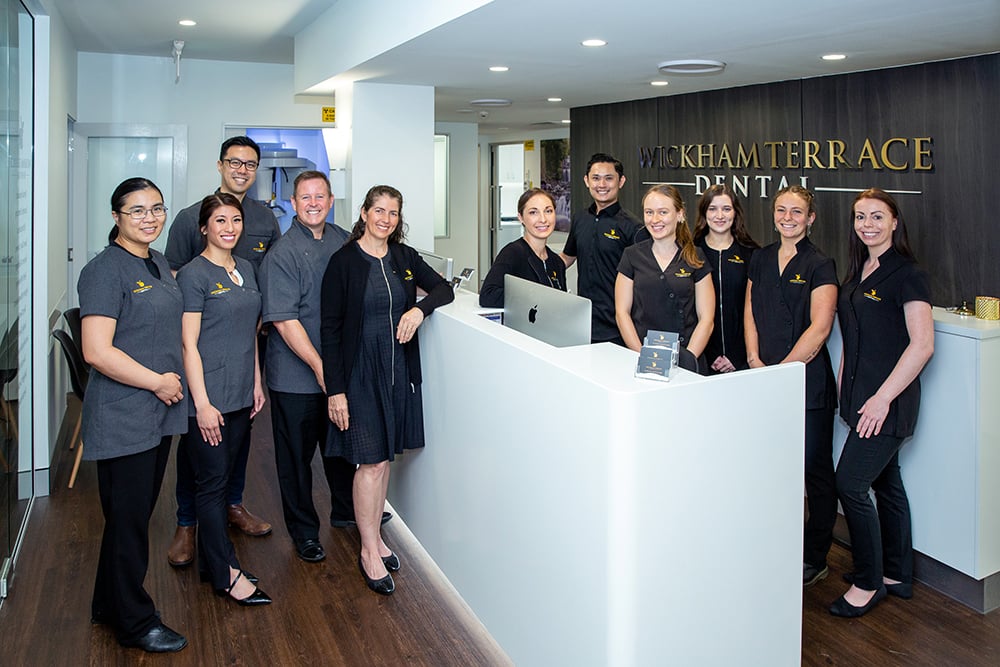 Andrew Teakle takes up the story. "When he came to us, Chris's teeth were in bad shape. He suffered from chronic pain and discomfort, as well as difficulty with eating and socialising thanks to his advanced dental disease," Andrew said.
"His prolonged bruxism had caused many issues, including significant tooth surface loss, lesions, hairline fractures of the teeth, jaw joint pain, dental sensitivity and loss of occlusal vertical dimension," said Andrew.
Dr Teakle recommended rehabilitation through the use of dental crowns, conservative composite resin restorations, a dental implant and an occlusal splint. The treatment plan was designed to prevent further pain and severe oral disability, and to allow Chris to restore his ability to chew and function normally.
Applying for government funding for urgent dental treatment
With such a comprehensive treatment plan to address Chris's many oral health issues, there was a significant cost. Chris tells us Wickham Terrace Dental were very supportive and helpful with his funding application.
"I paid for the whole treatment plan and then through the support of Wickham Terrace Dental we applied for government funding," Chris said. "They were always very understanding and patient around the whole situation, and never put any pressure on me."
"Wickham Terrace Dental were really good at keeping me up-to-date every step of the way. I would always receive a phone call from reception the day after an appointment to ask how I was going," Chris said. "The team would also make themselves available on short notice for appointments when it was needed."
Smiling more, speaking better, feeling more confident
Today, Chris's smile is in great shape. "They have fixed my jaw line, my bite's better, and my gum health has improved. I feel more comfortable in my mouth now," Chris said.
"I'm speaking better, breathing better, smiling more, and I just feel more confident. Speaking to strangers feels easier; partly because I look better but also cause I feel more confident."
"My friends and family are all saying 'wow'", Chris smiles.
And would Chris recommend Wickham Terrace Dental to others in his position? "Absolutely, I'd highly recommend them. At least look into it, the boost to your quality of life is worth the money, plus better teeth will save you money in the long run anyway."
Talk to us about improving your oral health
Whatever the state of your dental health, the first step towards a beautiful new smile is to see Wickham Terrace Dental for an initial appointment.
Get in touch with our Brisbane dentists on (07) 3831 3031 or contact us online now.