Why the right training can make such a difference
If you've been told that Invisalign isn't an option for you – perhaps because you have very crooked or crowded teeth – that might not actually be the last word.
That's because, even though almost any dentist can provide Invisalign, there is a world of difference in the amount of skill and training that you'll find.
Let's take a look at why further expert training can make such a difference to your Invisalign treatment.
Applying orthodontics training to Invisalign
There's no doubt that Invisalign is a very powerful tool. The custom-made, transparent aligners can straighten your teeth by gradually applying gentle pressure. Many of our adult patients love Invisalign because it really is practically invisible – so you can have your teeth straightened without anyone knowing you're having treatment.
The two-day course to be a certified Invisalign practitioner is an excellent course, and many dentists offer Invisalign with just this training. Yet it's even better when this training is enhanced with formal training in orthodontics and years of experience.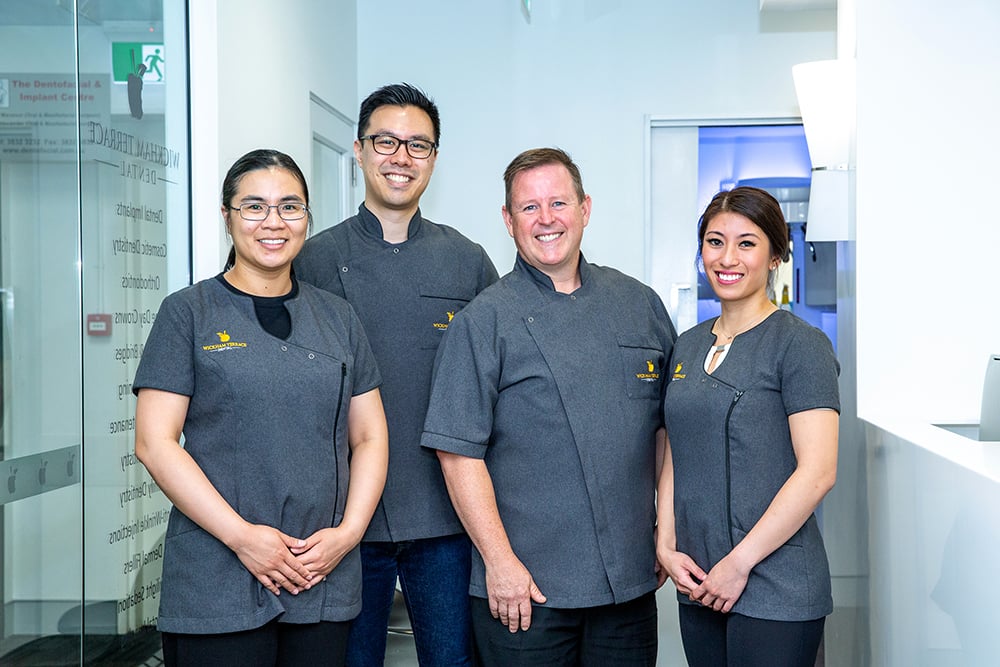 Even though at Wickham Terrace Dental we're a general dentist (not an orthodontic practice), our senior dentists Andrew and Hayden have undergone hundreds of hours of professional development, including formal training in orthodontics.
With this specialist knowledge, Andrew and Hayden can plan your Invisalign treatment to make use of other methods, and potentially correct even very crowded or crooked teeth.
How the right Invisalign diagnosis can improve your treatment
A dentist with formal training in orthodontics can make the best use of Invisalign. Your dentist may be able to better diagnose the causes of your crowding, so they can take a more holistic overview for a better approach to solving the issue.
They can interpret your scans more thoroughly to determine the best treatment path using Invisalign. The dentist can look at detailed x-rays and interpret them to better understand the problem; how a tooth can be moved; and the best way to achieve it.
With this additional training, your dentist may be able to use more traditional orthodontic techniques as part of your treatment plan, for example to move or correct a single tooth that Invisalign cannot.
Wickham Terrace Dental associate dentist Dr Hayden Morse said that with additional training, Invisalign can be a part of even more treatment pathways. "It's a little like that old saying – to the man with just a hammer, every problem looks like a nail!" he said. "With Invisalign as just one tool in your dentist's kit, there may be more efficient ways to achieve the result you're looking for."
With a deeper understanding, your dentist can thoroughly plan the entire process that's needed to achieve your desired goals for your smile. It means your treatment can be quicker, with less time wasted trying to move a tooth in a way that just isn't possible.
Efficient Invisalign treatment with Dental Monitoring
Another way we're improving Invisalign treatment is with Dental Monitoring. During your initial Invisalign consultation, we'll use our 3D iTero scanner to build a very accurate digital model of your teeth and smile. Then as you use your aligners, you simply take weekly pictures of your smile through your Dental Monitoring app and easily send them to us.
This incredible technology uses complex algorithms to generate high-resolution 3-dimensional models of your teeth and gums. These are analysed by AI within the Dental Monitoring software to match your "smile selfies" against your projected progress to see how you're doing. A report is generated which is read by our clinicians and any required action can be taken.
If everything is going well, we won't need to ask you to come in and see us. We may even recommend you switch to your next set of aligners early, potentially speeding up your treatment time!
And if you need more time with the same set of aligners, you won't have wasted a trip into the city (even though we'll miss seeing you!).
Talk to us about whether Invisalign can improve your smile
If you'd like to find out more, get in touch with the Wickham Terrace Dental team on 3831 3031 or contact us online.
Topics: Invisalign, adult teeth straightening