An update from our $30K dental work recipient
It's been 5 months now since Helena Driscoll, our recipient of $30,000 of complimentary dental work, began her treatment plan with us. And the results have been impressive!
Dr Andrew Teakle has now almost completed work on Helena's top arch of teeth. After first working to restore her oral health, Dr Teakle then placed her front restorations and plate. There are just a few finishing touches to Helena's top teeth to complete before work on the lower teeth can begin.
Helena said she is really happy with her results so far. "I'm still getting used to my new look. Old habits die hard and I find I'm still covering my mouth when I smile," she said. "I have to remind myself that I now have a beautiful smile to show off!"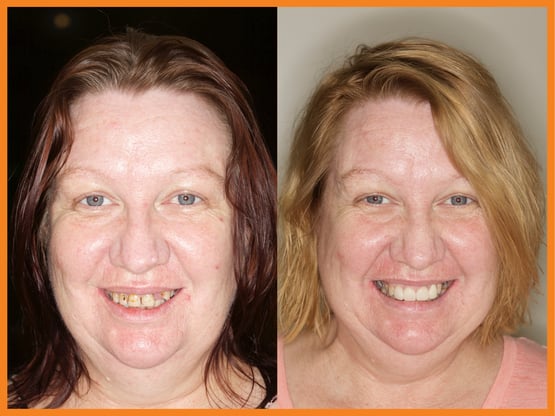 The next step for Helena will be orthodontics treatment on her lower jaw, to straighten her teeth in preparation for her final restoration work.
Helena said she's been surprised by how relaxing and easy her treatment at Wickham Terrace Dental has been. "I've never been afraid of the dentist, but I'm sure that Andrew and the team would cure anyone's nervousness," she said.
Dr Teakle said, "I love Helena's confidence to smile now, it shows in her eyes. Helena told us she never fully smiled before – so the difference is remarkable."
Helena agrees. "My next door neighbour stopped me and said, 'Oh my god you're smiling now!' straight away," she laughs. "I'm just so thankful that my daughter Lee nominated me, and that I was selected of course."
Look out for further updates from Helena from Wickham Terrace Dental.
Topics: Andrew Teakle, dental implants, oral health