Meet our patient Warren who's had 23 crowns placed
Sometimes, a tooth restoration that has (up until now) been doing the job needs to be replaced with a more permanent option. That was the case for our patient Warren, who has recently had no fewer than 23 dental crowns placed by Dr Andrew Teakle.
"I'd been living with a mouthful of resin veneers for 20 years, which had already needed replacing three times," Warren said. "I turned 64 and felt I needed a more permanent solution."
Warren said he'd noticed over the years that some family members with dentures had great difficulty keeping them in place. He'd also seen that false teeth made it difficult for them to speak clearly.
"I didn't want to get to the point where I had no choice but to get false teeth," said Warren. "I'd had one crown placed in my mouth 46 years ago and it's still in fine working order, whereas my resin veneers stained quickly and I'd even had infections in some."
"I thought to myself, why can't I just get a mouthful of those?"
Warren started looking into his options for a more permanent teeth replacement solution than resin veneers.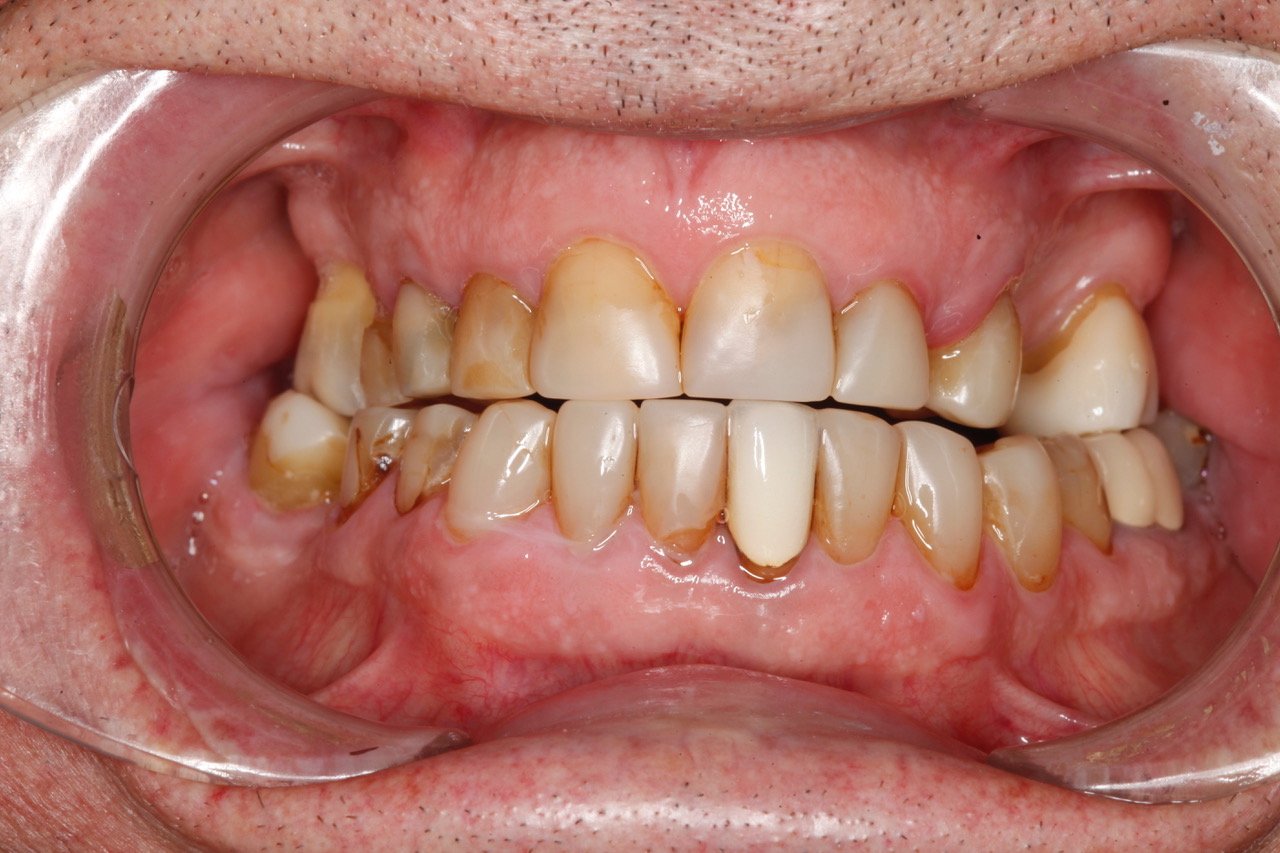 Placing a mouthful of dental crowns to restore teeth
As part of his research, Warren thought about having an implant-retained denture. "But since the roots of my teeth were in good order, I felt it would be pointless removing the teeth and it would have been more painful and costly too," he said. "The strength of having porcelain crowns seemed a far better option."
Once Warren had decided on dental crowns, he said the process was much quicker and more comfortable than he had imagined.
"Dr Teakle has the latest computer imaging and design tools, so all scans and initial design layouts were completed on the first visit," he said.
The second visit involved removing all of the old resin veneers and preparing the teeth for crowns.
"Andrew understood my request to have the crowns shaped as natural teeth and for them to have a slight off white colour, as natural teeth would appear at my age," Warren said.
During the third visit, Dr Teakle placed temporary resin crowns. This ensured that Warren became comfortable with his new sized teeth and bridges.
"After two weeks, when I was used to the new teeth and had no pronunciation or enunciation issues (especially no whistling noises), Andrew placed my permanent porcelain crowns and bridges," he said. "The entire process took about three painless hours."
"I walked out of there a very happy man indeed!"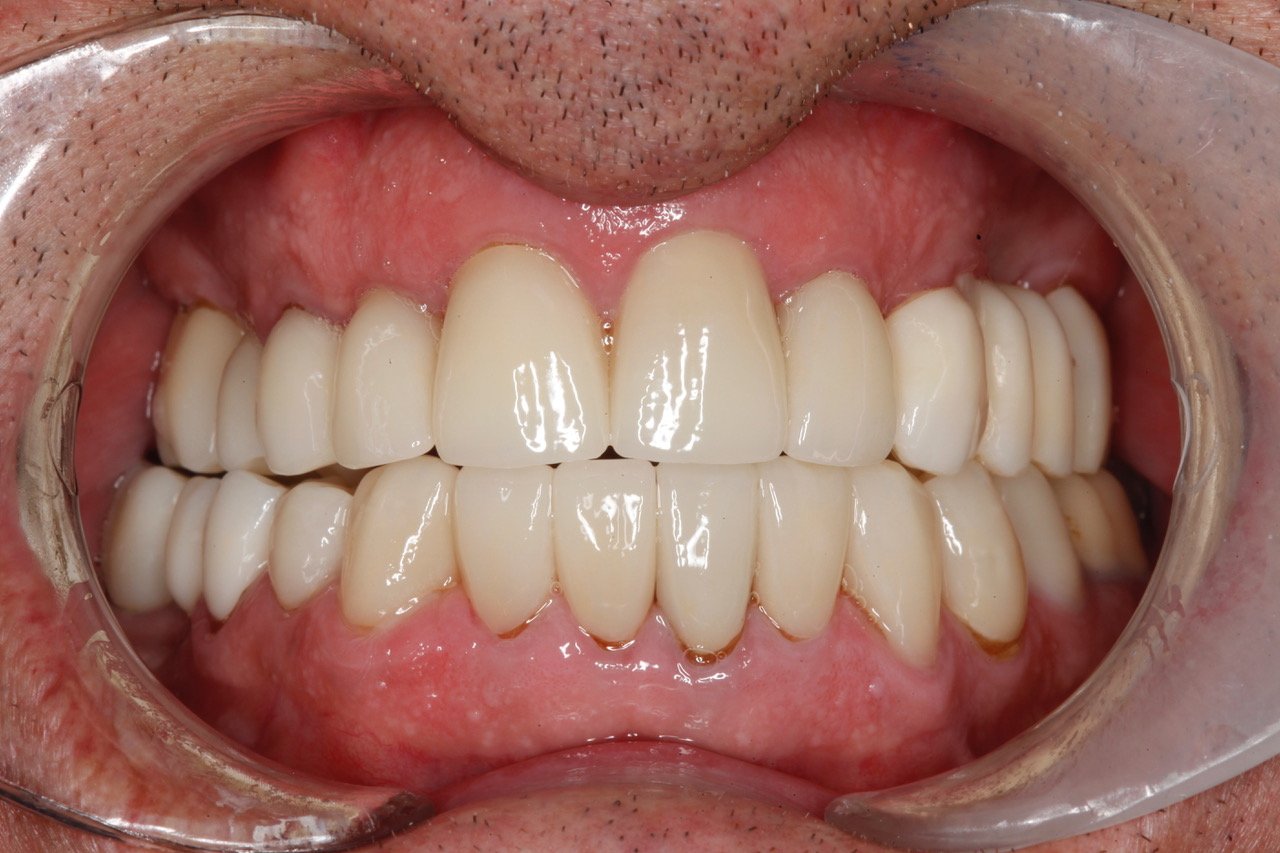 What's it like getting dental crowns?
Warren said the dental crown process was efficient and seamless. "I didn't really know what to expect before we started," he said. "But Andrew listens very closely and he made sure he understood what I was looking for."
From Warren's point of view, the technology that Wickham Terrace Dental use is really the winner. "I wasn't aware that such equipment was available. It's all very different to other dentists I had used previously," he said. "They have the necessary computer imaging and diagnostic equipment on hand right there in the office, which is why I think it was a perfect fit right away."
"Considering I had 23 crowns placed, I think it was a very fair price," Warren said. "They listened to my situation, and made sure they understood my financial constraints."
Warren said he was grateful for the help that Wickham Terrace Dental gave him when sourcing dental finance.
"I was a little concerned about financing my treatment, and I thought I'd have to do it in stages," he said.
"But the team did everything possible to help me get the Denticare approved in 24 hours," Warren said. "It's much better than doing it in bits and pieces."
How would Warren sum up his experience? "I just love the result," he said. "From step one at reception right through to the follow up calls from my dentist personally, I feel that they have a genuine concern for my welfare."
Talk to us about whether dental crowns could help you
If you'd like to find out if dental crowns could permanently restore your teeth, get in touch with our Brisbane dentists on (07) 3831 3031 or contact us online now.