How we helped create a more youthful appearance & functionality for our patient
The Wickham Terrace Dental team recently had the pleasure of restoring the smile of a patient who was missing all her teeth. It's another great example of the amazing impact Fixed on Four or More dental implants can have.
After suffering a chronic illness in her youth, Jane* had been missing all her teeth since her twenties. Now in her forties, Jane was concerned that she was looking older than she really was thanks to the effects of wearing dentures.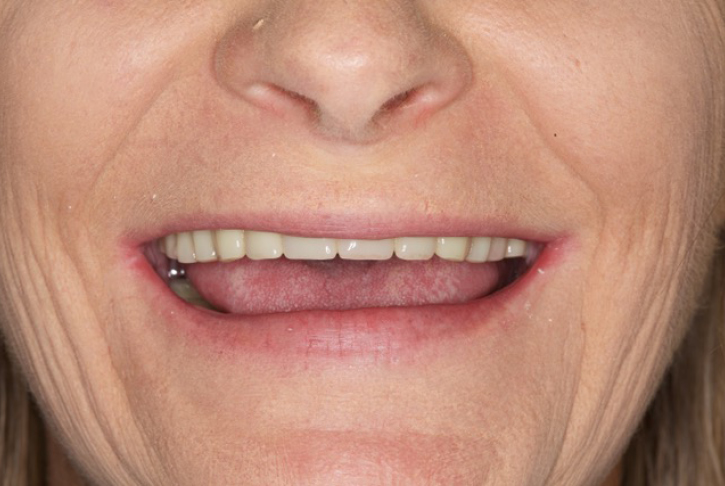 Wickham Terrace Dental's principal dentist Dr Andrew Teakle sat down to talk to Jane about her situation. "Jane came to us looking for an alternative to the dentures she wore, which she felt really didn't suit her," Dr Teakle said. "After talking to Jane we knew she was an ideal candidate for 'Fixed on Four or More' dental implants."
How missing teeth can affect your health and appearance
Because Jane had been missing all her teeth for decades, her jaw bone had steadily deteriorated, lost volume and shrunken significantly. Thanks to this loss of structure, her cheeks looked sunken and her lower face appeared 'collapsed'. The overall effect was to make Jane look much older than she really was.
As a relatively young woman, Jane was sick and tired of living with dentures. They didn't fit her perfectly; and they didn't allow her to chew properly, eat everything she wanted to, or even socialise comfortably. She felt their unnatural look added to her prematurely aged appearance.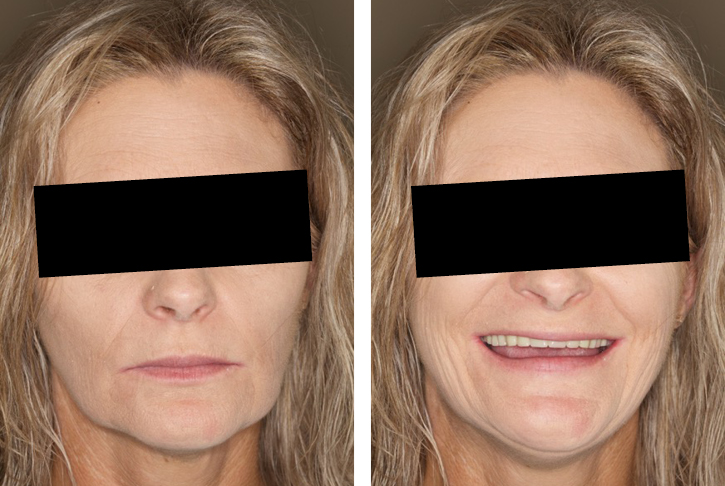 It's easy to imagine how her situation was affecting Jane's mental health & overall wellbeing.
Improving your facial appearance with natural looking restorations
As you can see in our photos, wearing dentures meant Jane had a linear (or flat), unnatural looking smile arc, along with insufficient "incisal display" – which means not enough of her teeth structure was showing.
Wickham Terrace Dental created a custom bridge that would restore the missing volume to Jane's face, as well as increasing the vertical dimension to help open her jaw and reduce the "sunken" look.
With its more natural appearance, the implant-retained bridge helped to make Jane's lips a little fuller and move her teeth a little forward. These small changes added up to make a big difference – reducing her sunken-in facial appearance and removing years from Jane's apparent age.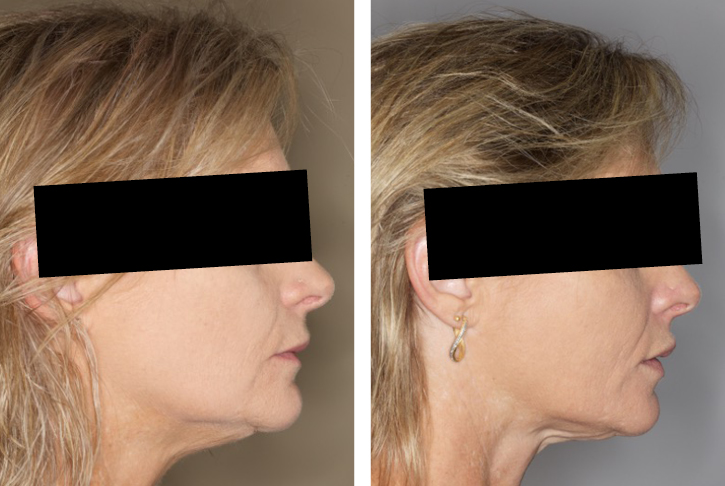 A straightforward day surgery procedure
To make sure everything was just right, the Wickham Terrace Dental team began by making a prototype of the final bridge. This let us check the fit and get a better look at how the restoration would impact Jane's appearance. Once we were both happy with this prototype, we moved on to the surgical phase of the treatment.
The process of fitting Jane's dental implants was simple day surgery – in fact, the actual procedure took barely an hour. Following surgery, the interim denture was re-fitted and measured to double check the fit, now that the implants were in place.
With everything ship-shape, the interim restoration was removed and converted into the final denture. This was then securely fastened to the implants on both Jane's upper and lower jaws to restore her smile back to full function and appearance.
On the same day as her surgery, Jane walked out from Wickham Terrace Dental with a fixed tooth restoration that looked much more natural and offered far better functionality.
Enjoying a more natural appearance
As you can see straight away, with her new Fixed on Four or More implant-retained bridge, Jane now looks much more like her actual age.
Her fixed bridge appears more like natural teeth than her previous denture did. Jane's face has more vertical dimension – reducing the sunken, collapsed look – and even her lips appear fuller. All of this helps to create a more youthful appearance.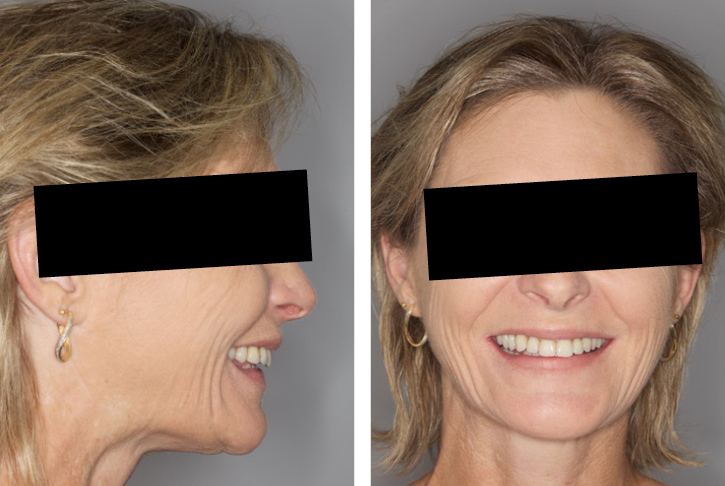 Jane was able to eat immediately after her surgery. What's more, with improved chewing function she can even transition back to a completely normal diet in the weeks following her surgery. There's no more need to avoid eating steak or crusty bread for Jane!
Dr Teakle said he was pleased to be part of a real success story. "It's wonderful to see the impact we can have for people with Fixed on Four or More," Dr Teakle said. "Jane's quality of life has really improved and you can just see the self-confidence she has now."
Talk to us to find out if Fixed on Four or More is right for you
If like Jane you're missing many or all of your teeth, Fixed on Four or More implants could be your path back to a complete, healthy, and attractive smile once more.
If you'd like to discover if Fixed on Four or More could help you, get in touch with Wickham Terrace Dental online or call us on 3831 3031 today.
*Patient's name has been changed to preserve her privacy. Jane's experience has been shared with her permission
Topics: dental implants