Great signs and a happy patient as Tony's treatment plan begins
Last year we asked for your help in finding someone who would most benefit from receiving up to $30,000 of complimentary dentistry from us. In the end, we chose two very deserving recipients, the first of whom is Tony.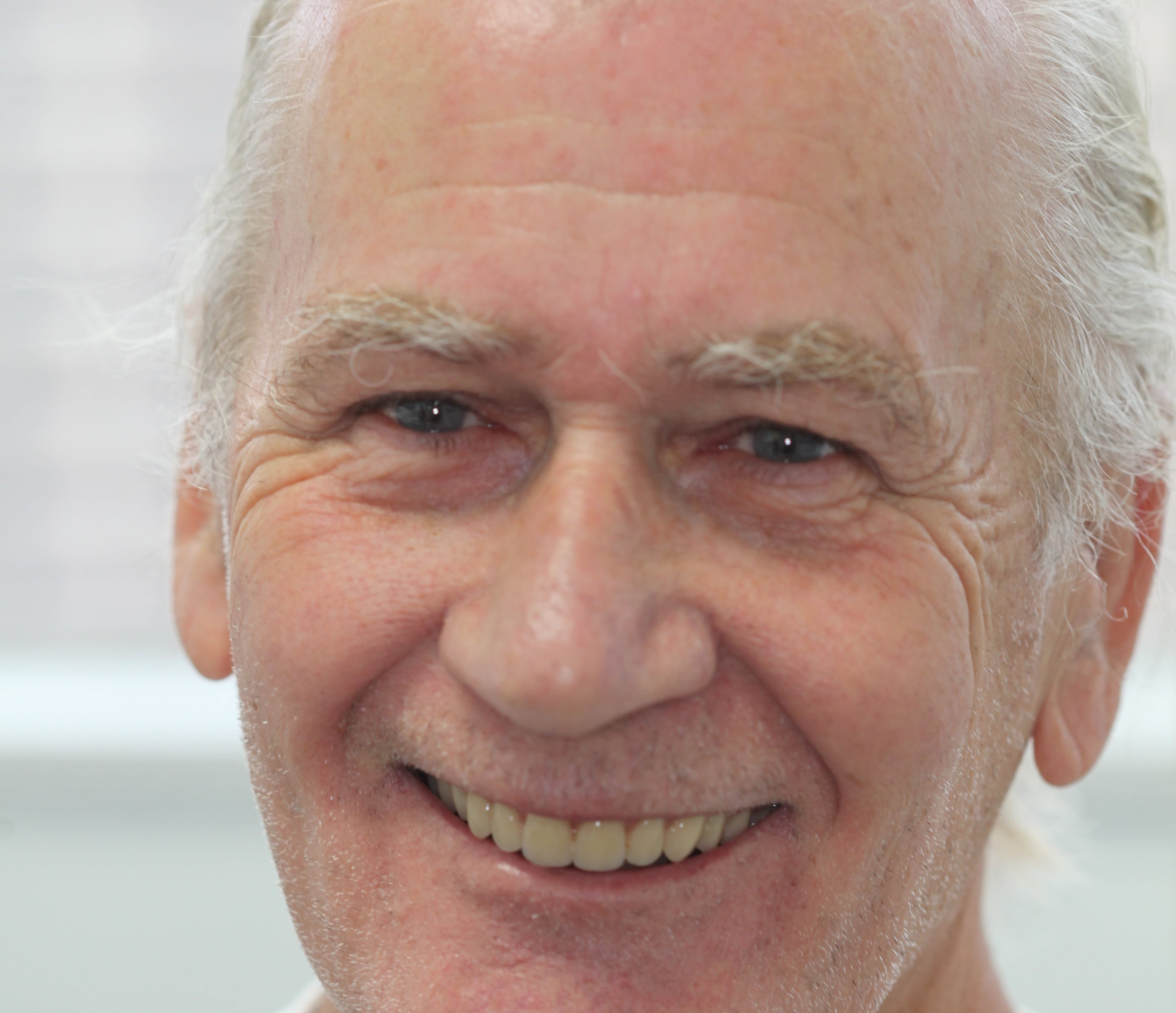 We're really pleased to report that Tony's treatment is now well underway. Dr Nicholas Yee has come up with a treatment plan in consultation with Tony, that will address his concerns and give him back a complete and healthy smile once more.
Deciding on a custom treatment plan
Tony presented at the end of 2020, tired of wearing an ill-fitting partial denture. He was very self-conscious about his appearance in family photos, and just wanted to have a smile he could be proud of.
After our team spoke with Tony, together we decided that we would remove his remaining top teeth that were in poor condition, and fix his lower teeth with white filling material. We'd then replace the missing teeth in his top jaw with a full upper denture as a temporary measure, before placing a final implant-supported removable denture. Tony's lower back teeth would also be replaced with dental implants.
First stage of dental implant surgery goes well
As 2021 began, Tony's treatment plan swung into action. His upper teeth were removed and a temporary full denture placed while we waited for his upper jaw to heal before implant placement.
Dr Nick said, "We've now done the top six jaw implants for Tony. Eventually we'll change his removable denture to an implant retained one that he can easily remove and keep clean."
"In the bottom jaw we built up the lower front teeth and replaced some of his molars that were missing with individual implant crowns," Dr Nick said. "They'll be almost the same as his original teeth, and he will pretty much get his original function back."
How has Dr Nick seen the impact of Tony's dental work so far? "There has been a huge change already with Tony's smile and confidence," Dr Nick said. "If we give it a few more months we should have a good result for him."
What was the dental implant placement like?
At Wickham Terrace Dental we understand that dental implant placement can be a daunting thought if you've never had oral surgery before. That's why we go out of our way to put you at ease and make the process as easy as possible.
"I was a bit anxious about it to be honest," Tony said. "But you know, it was just a great experience, the professionalism that Nick and his team showed. I hardly felt anything from the time in the chair."
And was the implant placement process painful? "There was pain for about two to three hours afterwards, but I took a couple of Panadol to ease a bit of the gum soreness," Tony said. "It was only what you'd expect after someone has been working on your mouth and gums – but it was short lived."
After his surgery, Tony was able to put his plate back in within two to three days. He said while there was a little bit of tenderness in his gums, it was only about what he expected.
Enjoying the experience so far
Partway through his treatment plan, Tony already can't keep the smile off his face. "It's just been unreal. It's been a journey and I'm getting my mouth back, and my smile back, and the service has been great," Tony said.
"A lot of my family and friends keep asking 'show me your smile', so I've been giving them big cheesy smiles!" Tony laughs. "That's just with the plate, and with the implants it's going to be even better."
"Look, it's just going to be a whole new outlook on life, a lot more confidence, yeah it's great," Tony said.
Follow us for more updates on Tony's journey
There's more to come with Tony's path back to a complete smile and improved oral health. "It has just been amazing. Coming in here for the first appointment I was excited and it's just been a journey and I'm loving it. I can see the end result and I can't wait," Tony said. Check in on our website or look out for our email newsletters as we keep you updated.
If you'd like to know more about dental implants, phone Wickham Terrace Dental on 07 3831 3031 or get in touch with us online.
Topics: dental implants