Exploring the options for straightening your teeth
If you're an adult living with crooked teeth, chances are you've explored your options for teeth straightening. Yet for many of our patients, the thought of a "metal mouth" with heavy wires and braces is just too off-putting to contemplate.
That's what makes Invisalign such a popular teeth straightening option. Invisalign does away with metal braces, instead using a series of custom-made transparent aligners, which straighten your teeth by gradually applying gentle pressure.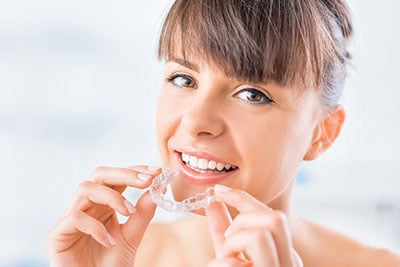 Because Invisalign really is practically invisible, it's a discreet way to have your teeth straightened without anyone knowing you're having treatment.
But how does it stack up against traditional braces? Let's look at how Invisalign works.
How does Invisalign work?
With Invisalign we scan your teeth to create a 3D model, which allows us to design a plan to straighten your teeth in small increments. Invisalign uses one clear plastic (virtually invisible) aligner for each of those small incremental changes. The flexible plastic pushes on your teeth to move them gently and safely.
We place small white "dobs" (that match your tooth colour) on some teeth to help the aligner move the tooth reliably. Even without the smooth aligner over the top, you'll find these dobs are quickly comfortable. There are no brackets and wires to trap food, and cleaning your teeth is as simple as normal.
Another advantage of Invisalign is that you'll get to see on the computer what your teeth will look like after your treatment is finished. There are no surprises – and if you don't like what you see, we can redesign the plan until you are happy.
How Dental Monitoring makes Invisalign even faster
New technology has now arrived that makes Invisalign treatment faster and even more predictable. With Dental Monitoring you can use your smart phone at home to take images of your teeth and aligners as your treatment progresses. These images are then analysed by AI and the results sent to your dentists to make use of.
The Wickham Terrace Dental team get to see how you are progressing before every aligner change. We can make sure you are ready to move forward, or see if you need a few extra days to keep your teeth moving on track.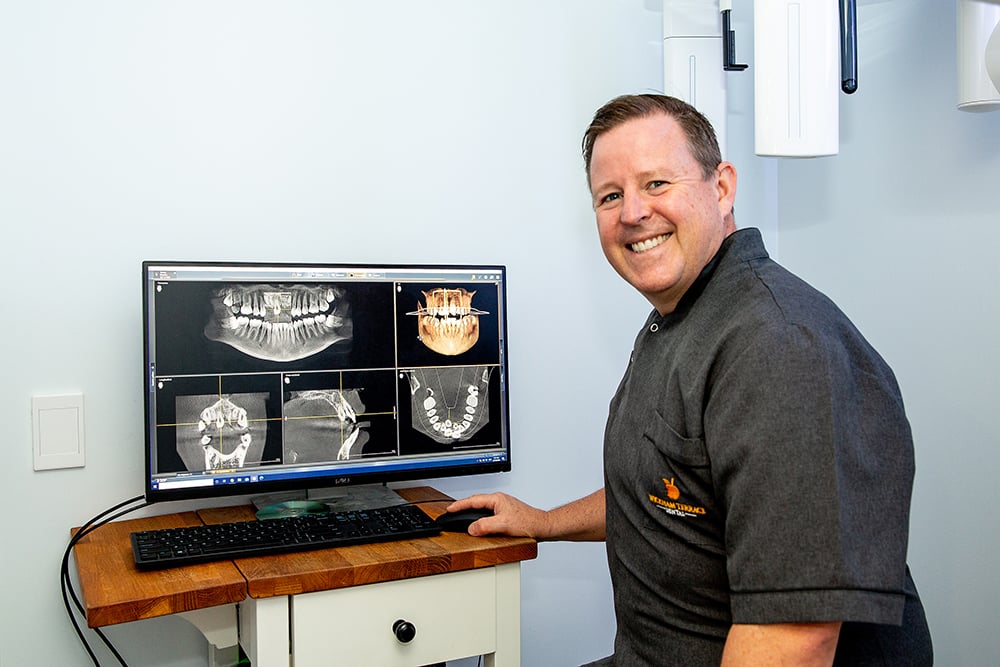 These few extra days here and there can save you months of extra treatment later. If something is going awry, we can spot it early and invite you in to the practice to fix it, avoiding the rescans and extra aligners that can lengthen your treatment time. And who knows, you may even benefit from the extra motivation that your before and after images create!
Dental Monitoring is like having a check appointment every week from the comfort of your own home. The old days of having your teeth checked only every six to eight (or more) weeks in at our practice are gone. We can do our job better, and it's more convenient for you. Better care, less appointments, shorter treatment time: that's win-win-win!
A more versatile teeth straightening option
Invisalign's planning software creates great versatility for you and your dentist. Being able to see the end result before we start is not only great for your peace-of-mind, it also helps us to use Invisalign in conjunction with other treatments.
If you have crowded front teeth that have become worn, the planning software allows us to position your teeth ideally for veneers or crowns. This helps give you the best appearance, and can also prevent overloading your teeth to keep your brand new smile looking its best for longer.
The software allows us to move teeth that have moved or tilted after a tooth has been removed, to allow us to place a dental implant or a bridge. This also works well in cases where your adult tooth never grew in the first place. We can open the space with precision to replace it with an implant or a bridge to help your smile look its best.
See how we can straighten your crooked teeth invisibly
There are many reasons why Invisalign is better than braces for adults. While braces are able to do the job, for many people they are so undesirable that they aren't a solution at all.
To find out the options that are available to you, get in touch with the Wickham Terrace Dental team on 3831 3031 or contact us online.
Topics: Invisalign, Invisalign Brisbane, adult teeth straightening